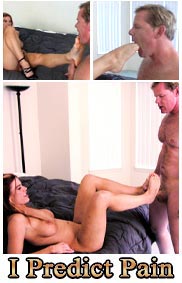 This video will not be available in our Pay Per View system for 1 year
This film features the following action:
Hot Sex
Nude Facesitting

Pussy licking

Ass Worship

Analingus

Cunnilingus

Hard Faceslapping

Spanking

Caning

Verbal humiliation

Blowjob

Footjob

Foot worship

Facial
Starring:Mistress Roxetta, Frank Towers
click here to view content from this video

This DVD has Full Motion Menu's
Approx. running time: 75 minutes
The Angry Auditor is back! IRS Agent Roxetta pays another visit to tax cheat Frank in this sequel to "Enjoy the Violence". This time, she takes the punishment to a new level.When Frank tries to deny there's a problem, Roxetta slaps the HANDCUFFS on him. Then she SLAPS HIS FACE. Then she slaps again. And again. For nearly ten minutes she wails on him. Not wimpy little love taps. Full force, full palm FACESLAPPING! Frank cries, howls, begs and whimpers, clearly in pain, but it only enrages her more. She slaps him until his face is red and puffy, then stuffs his 1040 Form in his mouth and continues to beat him about the head. He pleads that he'll write her a check, but Roxetta is in full frenzy and not about to stop.She forces him to drop his pants and starts BRUTALLY CANING AND SPANKING HIM! Frank's ass turns a humiliating red as she delivers her relentless blows with her cane. When Frank tries to suggest a bribe, she flies into such a rage that Frank can barely stand up under her furious smacks.Then to the bedroom, where Roxetta gets naked and sits on Franks face. He LICKS HER PUSSY like his freedom depends on it… because it does. She's not pleased with his pussy eating so she makes him switch to her ass, telling him "You'd better eat ass well, or you're going to be eating ass in jail!"Franks worships and tongues her ass with everything he's got, but Roxetta isn't satisfied. She FACESITS AND SMOTHERS him for almost 30 straight minutes while shoving his tongue deep into her ass and pussy, making him lick her until she has a LOUD ORGASM!Next, she makes him bark like a dog and SQUEEZES HIS BALLS until he screams. Then she makes him LICK HER SHOES and WORSHIP HER DIRTY FEET. He obliges, licking and kissing and stuffing all her toes in his mouth. Now Roxetta has him where she wants him.She takes his cock between her feet and strokes him with her arches. She's had her fill of his misery. Now it's time to turn him into her sex toy.She takes him back downstairs and THE HOT SEX BEGINS! She lies back on a table and guides his dick into her cunt. After all the torture, he goes wild from the pleasure. He pumps her like a growling beast.He fucks her missionary and doggy style, making her scream in ecstasy until she finally gets all the pleasure she can handle. She drops to her knees and stuffs Franks straining member into her mouth. She slurps and gags and controls when he can orgasm by not allowing him to touch his cock until Frank screams and CUMS ON ROXETTA'S FACE! If you enjoyed the video "Enjoy the Violence" you will LOVE this video. The chemistry and passion between these two is undeniable.
Buy it now!